Finally I went back down! Took me long enough if I say so myself! Anyway, The main reason I went down was to see if theres an easier way to get to the Controls for Pellet Baking in ErCana. There Was! A new friend of mine, named DaVinci, gave me a link to Ercana through a Marker. I found alot of cool stuff and got a Relto Page, Firemarbles! Fire! Fire! Anyway, before that, I was hanging out in Sharper's office and found this note. Guess Dr. Sutherland saw Ol' what's-his-name….: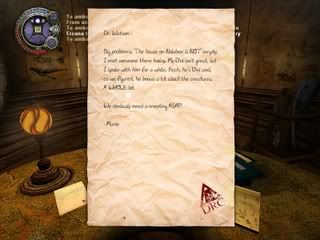 Says:
Dr.Watson-
Big Problems, the house on Noloben is NOT empty. I met someone there today. My D'ni isn't great but I spoke with him for a while. Yeah, He's D'ni and, as we figured, he knows alot about the creatures. A WHOLE Lot.
We Obviously need a meeting ASAP.
-Marie
*Camera and Pictures brought to you by CWSystems.